James Hemphill Jr
REALTOR®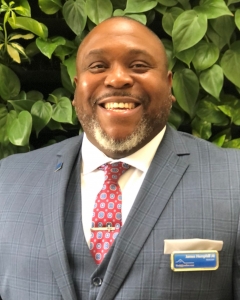 Collaborative | Charismatic | Professional | Effective | Client-Focused | Results-Driven
Thank you for visiting my website! I'd be more than happy to schedule an in-person consultation with you... call today!
About Me
Throughout my career, I've consistently been recognized by my clients as being their TRUSTED ADVISOR which is validated by all the 5-Star Reviews & Testimonials I've received. My preeminent measure of success is revealed when seeing the smiles on clients' faces as a result of their needs being prioritized. Amongst my peers, I'm consistently recognized for possessing a high level of Positivity, Ethics & Values and for being readily available to assist other agents throughout our industry. I strive to always provide an exceptional and successful real estate experience, which is achieved by removing as much of the stress and confusion from the home buying & selling process. Another accolade that I've received & graciously boast, is my high level of positivity, perfectionism & commitment to excellence. In today's highly competitive & fast-paced real estate environment, working with a highly-skilled & innovative professional that's dedicated to getting you the desired results you deserve is paramount. Come experience what makes working with James a truly unique experience.
Experience & Specialties
As a proud resident of Everett and serving Greater Seattle, Woodinville, Mukilteo, Bothell, Mill Creek, Lynnwood & Everett communities, I understand the importance of being involved in these markets and appreciating the characteristics that make them ideal places to live, work & raise a family. My specialty is in the Resale of Residential Homes but not limited to that aspect of Real Estate. I'm also quite skilled in the art of Negotiations which is key to Sellers achieving their goals. When Listing a home, I employ an aggressive Marketing Plan that's uniquely tailored to the property. Oftentimes, my commitment towards providing the absolute best experience to my clients varying needs takes me out of my primary areas of focus which is a challenge, but one that's gladly accepted. Going above and beyond is another Unique, Value-Added Benefit that I freely offer to my clients. Before fully focusing on real estate, I served as a leader in the business community within the Supply Chain Management space as well as an entrepreneur in the Home Improvement industry. I graduated Cum Laude with a Bachelor's of Science Degree receiving honors emphasizing on Business Administration & Human Resource Management.
Community Involvement & Personal Interest.
My family and I are actively engaged in serving our community through our church and other philanthropic organizations. We routinely volunteer in community clean-up and improvement projects that inspire hope and dignity. I also have a passion for Mentoring at-risk youth in the community. We're also dog lovers that love getting outdoors to dog parks with our two English Bulldogs. Food is another passion of mine, as a Foodie, I love cooking chef-quality meals for family and friends.
As a skilled LISTING, MARKETING, SELLING & BUYER Specialist serving the Greater Seattle, Woodinville, Mukilteo, Bothell, Mill Creek, Lynnwood and Everett communities, I am confident that I can meet and exceed all of your expectations. Please feel free to contact me today for ALL your real estate needs.
Zillow 5 Star Premier Agent
YOUR TRUSTED ADVISOR & SNOHOMISH, KING & PIERCE COUNTY AREA REALTOR
Market Update
Home buying activity is picking up, which is great news for sellers who have been sitting on the sidelines. I'm also happy to report that home prices are making a significant comeback and that interest rates continue to hold at historic lows, fueling much of the current buyer activity. Our hope is that mortgage rates remain low and positive market momentum will be a part of the future.